This beautiful park Kenrokuen (兼六園) in Kanazawa is justifiably classified as one of Japan's "three most beautiful landscape gardens".
Kanazawa's Most Famous Landmark
When venturing to the city of Kanazawa, it is virtually impossible (and would be a misstep!) to skip a visit to the region's venerable botanical gem, Kenrokuen Garden. As a mainstay of "The Three Great Gardens of Japan" (the others being Korakuen in Okayama and Kairakuen in Mito), Kenrokuen is a stunningly manicured landscape for which its name directly translates into the "Garden of the Six Sublimities." Kenrokuen is a marvel to behold in any season, and whether visiting during the less crowded summer and winter, or during peak times in spring and autumn to experience hanami season (plum and cherry blossoms), and autumn's kōyō viewing (fall leaves), you're sure to be in for a natural visual feast.
Kenrokuen embodies the "Strolling Garden" style prized during the Edo-era.
*What are the features of a "strolling garden"?
Strolling gardens were not meant to be viewed from a single point, but were designed using large areas of land so that the viewer could slowly walk throughout and enjoy the scenery from different vantage points. They typically contain carefully designed artificial ponds, islands, and hills, tea houses, and have several paths laid out for visitors to leisurely stroll through. Influenced by the Chinese landscape theory in favor during the time, the garden contains what was thought to be the six attributes of a perfect garden: seclusion, space, antiquity, artificiality, broad views, and abundant water.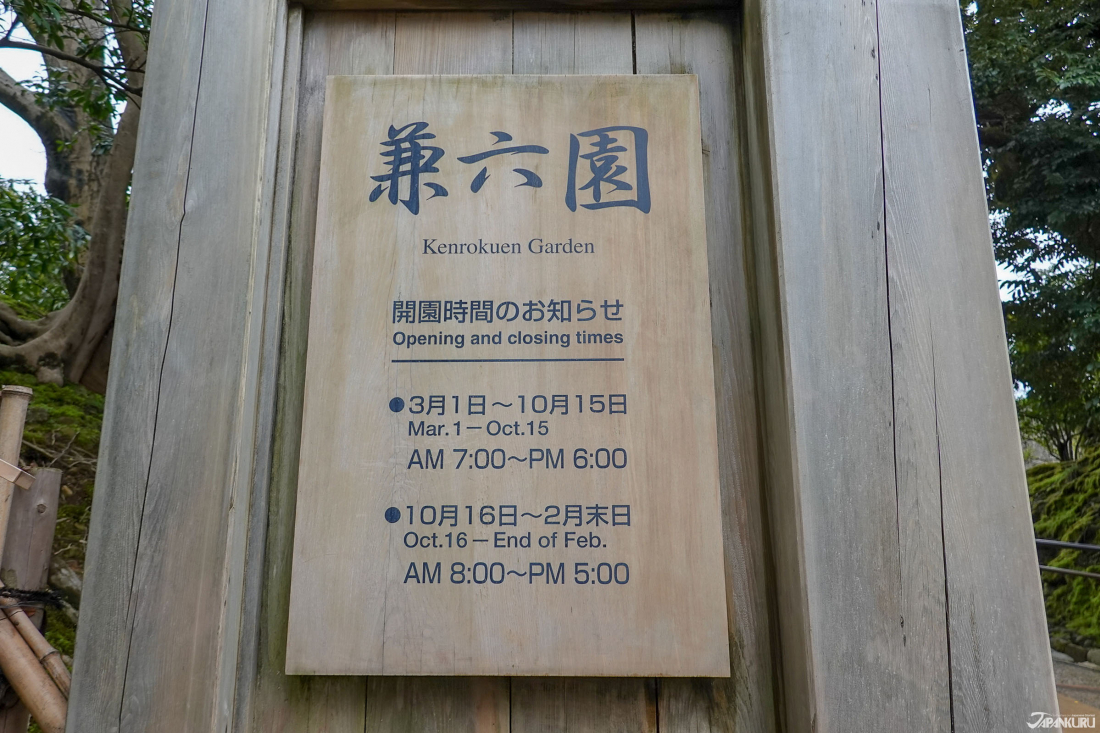 Kenrokuen originally was developed as the outer garden of Kanazawa Castle by the Maeda Lords who ruled the area. The garden was initially opened to the public in 1871 and has a number of special distinctions of cultural and historical importance within Japan—which currently stands as one of the top attractions in the region.
Kenrokuen, a Place of Calm and Healing
Relax along the lake edge amongst the park's famed Karasaki Pines and take in calm tranquility reminiscent of days past. Depending on the season, throughout the year you can enjoy a wide range of natural beauty including flowering trees and plants in spring and summer, the changing leaves in the fall, or beautiful snow covered views in the winter.
If you're open to splurging a little, enhance your garden experience and enjoy some traditional sweets and tea by visiting one of the tea rooms within Shiguretei Tea House overlooking Hase Pond.
Kenrokuen Garden is only a 10-minute walk from Kanazawa Castle and connected by a bridge, conveniently making it a great combination to explore when visiting the city. Outside of its historical importance, this is an incredible place worth repeat visits to relax, clear your mind, and take in some natural beauty.
Be sure to look at JAPANKURU🐶 for more exciting articles every day!!
And add us on Instagram and Facebook to share your Japanese pictures💖🗾